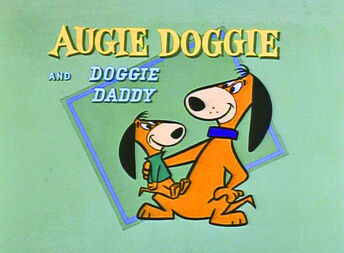 Welcome to the Augie Doggie and Daddy Doggie show wikia!
Main Characters
Pilot
The segments centered around the misadventures of a dachshund father-and-son team. Doggie Daddy (voiced by Doug Young impersonating Jimmy Durante) tried to do the best he could at raising his rambunctious son Augie (voiced by Daws Butler). Augie, who loved his father, would often refer to him as "dear old Dad." Their mutual admiration included Daddy gently chiding, "Augie, my son, my son", when he would disappoint his father; and when his son would say or do something that inspired pride, Daddy would turn to the audience and say with a grin, "Dat's my boy who said dat!" The segments and characters were similar to the Spike and Tyke cartoons William Hanna and Joseph Barbera produced during their theatrical animation careers at MGM in the 1940s and 1950s.
The 20th episode of Augie Doggie and Doggie Daddy, titled "Gone to the Ducks", introduced a character who was to become a minor Hanna-Barbera star in his own right — Yakky Doodle, who later had a back-up segment on The Yogi Bear Show. An early version of Snagglepuss, who starred in Yogi's third segment, also guest-starred a couple of times.
Community content is available under
CC-BY-SA
unless otherwise noted.